Grußwort von INISA Stipendiat 2017 Keletso Moruane: "INISA SAVED MY LIFE"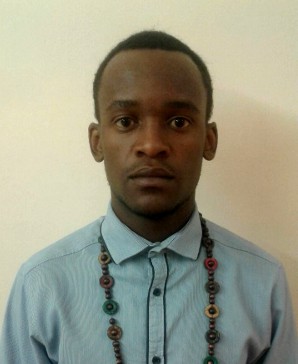 I had sent countless emails and applications to every organization that I found on the internet. By this time I had registered more modules than I had during the first semester. The workload was almost unbearable and I had very little time to study as I was now working two jobs to cover my accommodation, and to top it all off I could not afford the needed study material for the 2nd semester. Every chance got, I would spend in the library. The struggle to maintain balance between working and studying led me to discontinue one of my modules.
Even though it sounds terrible it was actually not. I now had more free time to attend classes if not working and even more to spend studying and working on a book I've been writing for quite some time now. Every moment in class was an opportunity to escape the energy consuming difficulties I was going through and a chance to reconnect with my peers. In fact being in class felt like being in a universe I could only fantasize of. My academic performance also looked to be improving, and that gave me ease. Well… in time I received a notification that my university account was not paid up to date and that matter will be handed to the lawyers of the institution by the end of November 2017 if the account is not settled then.
My student card and internet access were to be blocked before my exams commenced. Just when I thought there was actually no way out of this, I received an email from Dr Sebastian informing me that I was one of the shortlisted candidates for the INISA student grand. The email gave me hope that I could actually still make it, and even though I was not sure whether the board will approve I was motivated to see what I had started through just when it seemed impossible. By the time I was notified that the INISA board approved my application, it felt like a huge barrier was just removed from my path and the chance to a future that I am working towards was now in site. By then I had already wrote two of my exams. I wrote the other remaining two modules a week later with the confidence that I've never really felt in my life.
For the first time during the entire year i felt like I was alive and progressing towards becoming the future Environmental Scientist I know I need to become. Though I can't see my exam results yet until the outstanding R25 634 balance is settled, I am confident that I did well. The INISA student grant saved my life! It gave me more than just liberation and motivation when I truly needed them, it gave me the opportunity to one day be in a position to provide for my family and secure an academic future for my little sister so that she'll never have to go through what I went through.
You see the grand saved more than just one life, it saved an entire generation. I now plan to plan to work during these December holidays so that I can come back and register for the 2018 academic year and complete my degree in Geology and Botany. I plan to use most of my free time to work on my book titled THE DYNAMICS OF CHANGE, and to hopefully find a publisher who can get it out there. Moreover my most important objective is to go back to my village and make the fellow students in the high school I attended aware that they too can make it to university or even study abroad without money, for there people out there who are willing to lend a helping hand to those in need and hungry for knowledge.
If I can do it they should know that they can do it better than I did. Lastly it has just became my life mission to work hard and eventually be in state whereby I can actually become one of the donors of INISA because I am living proof that what they do matters and actually makes a difference in people's lives, and would like for it to grow to eventually be able to fund many more students who are working hard and I need of a little helping hand to one day be successful in life. To the INISA donors, Words can never begin to describe how grateful I am.
One life has lived better because of the actions that you took. I now have a future that is promising because of your efforts. I truly believe that the world will be a better place at some time in the evolution of beings of infinite consciousness. I now sleep with peaceful mind and wake up every morning excited to see what that new day holds for me. I feel more alive than ever and live with ease because of people and organizations such as yours. I know there are many more people out there in need of your help, and hope your organization grows to a point where by it is able to help as many of them as it possible ever can because I believe in INISA.
INISA YOU SAVED MY LIFE.
Yours truly Keletso Moruane
Related Posts
By accepting you will be accessing a service provided by a third-party external to https://www.inisa.de/