Grußwort unserer INISA-Stipendiatin 2018 Yoliswa Masengemi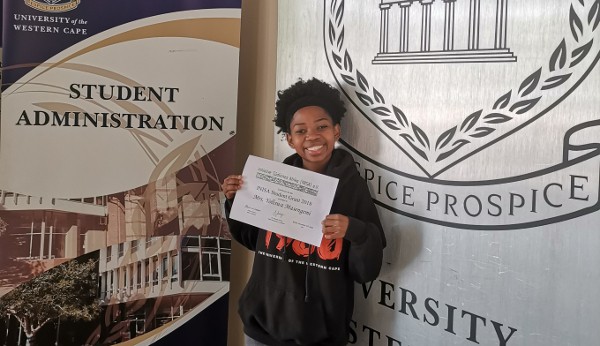 At the time, I had no form of financial support, but I never let it hinder me from grasping the chance to better my family's economic position and community at large. Having grown up in a financially unstable home, I was expected to limit my dreaming capacity and cage my plans due to circumstance. Starting a new independent life, in a new province, new school, and new environment with no financial assistance let alone the idea or thought of ever receiving assistance was terrifying I must say, all I did have was faith and determination that I was going to get through this year and that I am going to get my degree in 3 years' time.
I proceeded with my year and studies with all the other students as if everything was alright, as if I was not receiving mails reminding me of overdue balances that kept the deadline dates in highlighted in dark red bold writing. Fear would strike here and there, thoughts of getting kicked out would torment me on the daily but I would overcome that fear with more applications and faith. Until the 18th of September when all hope was lost, when deadlines had passed, when I was getting myself packed up and ready to leave. That was when I was first in contact with Dr Sabine Blumstein receiving an email from the INISA Student grant subjected STUDENT GRANT – INTERVIEW.
My heart was pounding with joy, I felt a sudden relief like could clearly see the future again. My initial thought of shock was that this was a joke or a prank, I could not believe my eyes until I went through with the interview and was amazingly one of the 3 grand grant holders. Words can never describe the huge impact this assistance had in my life, I had reached rock bottom. I had started losing all hope and was on the verge of packing up and heading home with shattered dreams. Receiving the email on the 16th of September was life changing!! It felt like the 2nd chance life had given me.
Words cannot begin to describe my gratitude and utter appreciation towards INISA. I Am- and will forever be grateful for the INISA STUDENT GRANT, would never regret applying there.
Related Posts
By accepting you will be accessing a service provided by a third-party external to https://www.inisa.de/